Posted on Thursday, August 26, 2021 09:22 AM
Thank you to everyone who has already filled out the project survey and youth survey , and to those who have encouraged other community members to do the same.
The feedback received from the public will directly guide the parks and recreation project recommendations, such as what amenities and/or programming should be provided in the future.
The project surveys will close for feedback on August 27th, 2021 at 11:45pm.
If you or anyone you know has yet to fill out the survey, please encourage...
Posted on Tuesday, August 03, 2021 03:18 PM
Calling all local Sports Associations and Community Groups! The Township is creating a Parks and Recreation Master Plan and we want to hear from you!


Check your email inbox for a copy of the Community Group Survey and/or Sports Group Survey from our consultant. Didn't receive a survey? Please contact moira.davidson@stantec.com to obtain a copy.
Posted on Tuesday, August 03, 2021 02:50 PM
The Township of East Zorra-Tavistock is reaching out to local youth for their input on the existing Parks and Recreation system within the Township.


Posted on Friday, July 30, 2021 02:00 PM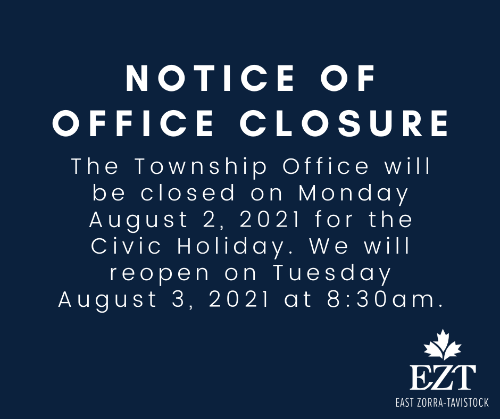 The Township Office will be closed on Monday, August 2nd for the Civic Holiday. The office will re-open on Tuesday, August 3rd at 8:30 a.m. for regular business hours. We wish everyone a safe and happy holiday long weekend.
Posted on Friday, July 23, 2021 04:15 PM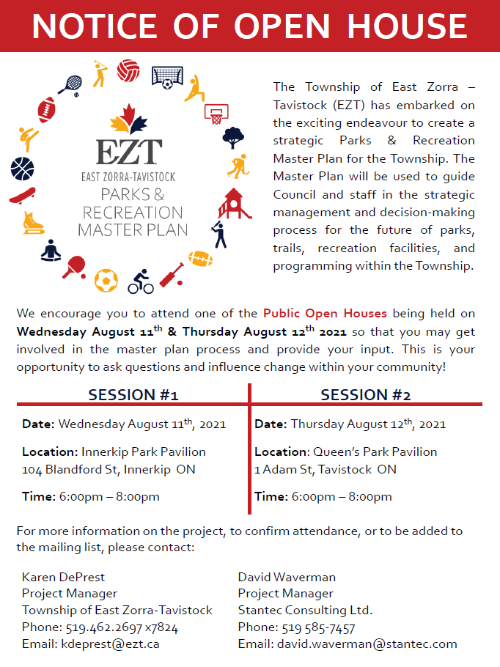 The Township has embarked on the exciting endeavour to create a strategic Parks and Recreation Master Plan. The Master Plan will be used to guide Council and staff in the strategic management and decision making process for the future of parks, trails, recreation facilities, and programming with the Township.
We encourage you to attend one of the Public Open Houses being held on Wednesday August 11, 2021 and Thursday August 12, 2021 so that you may get involved in the master plan process and provide...